hollow hand
Your Own Adventure
CURATION RECORDS
---
Max Kinghorn-Mills worships at the altars of Fairport Convention, Syd Barrett, and Nick Drake.
We've been raving about his spacy psychedelia for years, since his early sold out 7"s, and we're absolutely delighted that he's reached out with an exclusive edition of his new record for us.
And what a record it is – 'Your Own Adventure' is a huge acid opus, with Kinghorn-Mills moving between Donovan-like wide eyed wonder, Flying Burrito Brothers southern groove and some of the bug-eyed wonky look at the 60's that Super Furry Animals made their own. It's an album that wears its influences on its sleeve, and the result is a gorgeous record of perfectly pitched pop.
The package itself is special as well – alongside the blue colourway that you won't find anywhere else, Kinghorn-Mills has created a stunning hand printed zine, 'Romancing the stone', a "psychedelic account of the summer solstice" with experiences from his time at Stonehenge.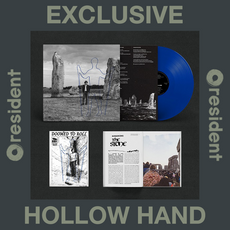 sleeve art



resident exclusive edition
Light, Falling
Before Tomorrow
One Last Summer
I'm Going To Let You Break My Heart
Heaven Just Watched
All My Love
Childhood Room
Where I Am Is Here
Doomed To Roll
Baby You're So Rock N Roll
Jealous King
Weatherman
Blue Eyed Babies