Haircut 100
Pelican West (40th Anniversary Edition)
Demon Records
---
A celebration edition of Haircut 100's much-loved debut album, released with full cooperation of the band.
In less than six months, Haircut 100 moved from being London underground darlings to chart sensations, and within a year had disappeared into pop's ether, leaving behind one memorable album and four Top 10 UK singles. "Lots of people are discovering Haircut 100 now and that album and saying it's fresh as a fantastic daisy, every time, that's the wonder of it." – Nick Heyward (vocals and guitar), 2022
The 180g black lp edition has been newly mastered by Phil Kinrade, and expertly cut using transfers of the original ½" digital audio tapes using precision half-speed mastering by Barry Grint at AIR Mastering. The 4LP boxset edition features a brand-new half-speed master from the original tapes of their debut album Pelican West, first released in February 1982, reaching No 2 in the UK and No 31 in the US, two LPs of extended versions, B-sides and special remixes, plus the first-ever release of the eleven tracks that the band were working on in late Summer 1982 for the follow up album to Pelican West, to be titled Blue Hat For A Blue Day. Although unfinished, the five instrumentals, one guide- and five vocal tracks enthusiastically illustrate what would have happened next. Includes the Haircut 100 version of Club Boy At Sea and Whistle Down The Wind as well as an instrumental of A Blue Hat For A Blue Day, which were all to feature on Nick Heyward's first solo album, North Of A Miracle in 1983. The 4CD set contains a 44-page booklet with a new 10,000 word note, an oral history of the time with all six members, interviewed and assembled by the set's curator, author and DJ Daryl Easlea. Includes memorabilia and exclusive photographs from the personal collection of the band's Graham Jones and Les Nemes.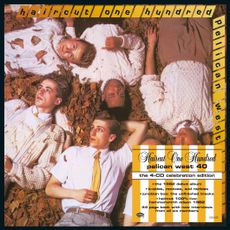 180g half-speed mastered lp:
Favourite Shirts (Boy Meets Girl)
|Love Plus One
|Lemon Firebrigade
|Marine Boy
|Milk Film
|Kingsize (You're My Little Steam Whistle)
|Fantastic Day
|Baked Beans
|Snow Girl
|Love's Got Me In Triangles
|Surprise Me Again
|Calling Captain Autumn
4LP Boxset
LP 1 Pelican West Half-Speed Master
1. Favourite Shirts (Boy Meets Girl)
2. Love Plus One
3. Lemon Firebrigade
4. Marine Boy
5. Milk Film
6. Kingsize (You're My Little Steam Whistle)
7. Fantastic Day
8. Baked Beans
9. Snow Girl
10. Love's Got Me In Triangles
11. Surprise Me Again
12. Calling Captain Autumn
LP 2 Pelican Plus Part One
13. Boat Party (7" version)
14. Ski Club
15. Favourite Shirts(Boy Meets Girl) (12" version)
16. Love Plus One (12" version)
17. Fantastic Day (12" version)
18. Calling Captain Autumn (Special Extended Version)
19. Boat Party (12" version)
20. Marine Boy (12" Version)
21. Ski Club Of Great Britain
LP 3 Pelican Plus Part Two
22. Love's Got Me In Triangles (Extended Version)
23. Favourite Shirts (Boy Meets Girl) (Extended Remix)
24. Fantastic Day (Live)
25. Calling Captain Autumn (Extended Remix)
26. Nobody's Fool (12" Version)
27. October Is Orange (Day 1 & 2) (12" version)
LP 4 Junction Box – The Unfinished Tracks
28. I Believe In Sundays
29. Maytime Moments (Instrumental)
30. Cheek to Cheek (Instrumental)
31. Hayley's Heart (Guide Vocal)
32. A Blue Hat for a Blue Day (Instrumental)
33. Coming Home (Instrumental)
34. Brookfield Girl
35. Sunny Boy, Sunny Girl
36. Club Boy at Sea
37. Steam Bus Junction (Instrumental)
38. Whistle Down the Wind
4CD Boxset:
CD 1 Pelican West
1. Favourite Shirts (Boy Meets Girl)
2. Love Plus One
3. Lemon Firebrigade
4. Marine Boy
5. Milk Film
6. Kingsize (You're My Little Steam Whistle)
7. Fantastic Day
8. Baked Beans
9. Snow Girl
10. Love's Got Me In Triangles
11. Surprise Me Again
12. Calling Captain Autumn
13. Nobody's Fool
14. October Is Orange (Day 1&2)
CD 2 Pelican Plus
1. Boat Party (7" version)
2. Ski Club
3. Favourite Shirts(Boy Meets Girl) (12" version)
4. Love Plus One (12" version)
5. Fantastic Day (12" version)
6. Calling Captain Autumn (Special Extended Version)
7. Boat Party (12" version)
8. Marine Boy (12" Version)
9. Ski Club Of Great Britain
10. Love's Got Me In Triangles (Extended Version)
11. Favourite Shirts (Boy Meets Girl) (Extended Remix)
12. Fantastic Day (Live)
13. Calling Captain Autumn (Extended Remix)
14. Nobody's Fool (12" Version)
15. October Is Orange (Day 1 & 2) (12" Version)
CD 3 Junction Box – The Unfinished Tracks
1. I Believe In Sundays
2. Maytime Moments (Instrumental)
3. Cheek to Cheek (Instrumental)
4. Hayley's Heart (Guide Vocal)
5. A Blue Hat for a Blue Day (Instrumental)
6. Coming Home (Instrumental)
7. Brookfield Girl
8. Sunny Boy, Sunny Girl
9. Club Boy at Sea
10. Steam Bus Junction (Instrumental)
11. Whistle Down the Wind
CD 4 Haircut 100% Live! Hammersmith Odeon Spring 1982
1. Low Rider
2. Baked Beans
3. Favourite Shirts (Boy Meets Girl)
4. Calling Captain Autumn
5. Milk Film
6. Snow Girl
7.Lemon Fire Brigade
8. Fantastic Day
9. Love's Got Me In Triangles
10. Love Plus One
11. Kingsize (You're My Little Steam Whistle)
12. Favourite Shirts (Boy Meets Girl) (Long)
13. Calling Captain Autumn
14. Love Plus One (Encore)