other titles...
See also...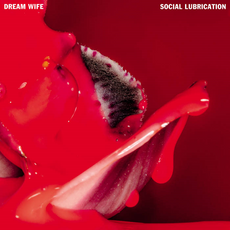 Tracklist:
Kick In The Teeth
Who Do You Wanna Be?
Hot (Don't Date A Musician)
Social Lubrication
Mascara
Leech
I Want You
Curious
Honestly
Orbit
deluxe edition flexi disc
Love You More
DREAM WIFE
Social Lubrication
Lucky Number
The return of Dream Wife is a moment worth savouring, with the band in electrifying form with an entirely self-written and self-produced third album.
The incendiary and riotous record finds the trio once again tackling big subjects in their trademark unapologetic manner where, with the band being adept at merging the political with the playful, vital statements are hidden within hot and heavy anthems about making out, having fun and staying curious.

'Social Lubrication', in the band's words, is "Hyper lusty rock and roll with a political punch, exploring the alchemy of attraction, the lust for life, embracing community and calling out the patriarchy. With a heathy dose of playfulness and fun thrown in."

"New wave structure meets punk blatancy and 21st-century gender fluency" - New York Times

"[Dream Wife] combine sticky pop flourishes and bruising sounds with brazen self-assurance....extending the continuum of uncompromising feminist musical statements with refreshing directness." - NPR Music

"Their community-focused, sparkly political approach is reflected not just in their second album's most emotive moments, but is baked right into the DNA of this addictive LP" – Q

"Crispy, punky and relevant. They take a driver seat in the ride to gender equality, joyful body awareness and a love-mess." – Dork Magazine

"A mixture of clashing riot grrrl guitars and painfully honest indie anthems, the record is at its core a call to live in the present and ignite a "now-or-never" attitude." – Evening Standard

"The outspoken Brighton punks are back to finish what they started, smashing the patriarchy with hooks and excoriating, witty lyrical missives." – NME

"Dream Wife just want to dismantle the patriarchy. The U.K. art punks make music that's roiling with feminist rage and Spice Girls attitude" - Rolling Stone