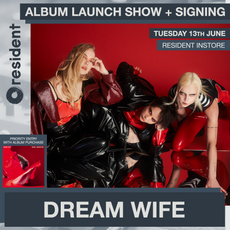 Kick In The Teeth
Who Do You Wanna Be?
Hot (Don't Date A Musician)
Social Lubrication
Mascara
Leech
I Want You
Curious
Honestly
Orbit
DREAM WIFE
'Social Lubrication' Album Launch Show
at resident music, brighton - Tuesday 13th june 2023 (all ages - under 14s can come for free)
we're thrilled tO HAVE DREAM WIFE COME BY THE SHOP FOR AN INTIMATE INSTORE PERFORMANCE & SIGNING in celebration of their latest album 'social lubrication'!
• running timings : 6:30pm start.
• no actual tickets are issued for the show – you will get an order confirmation & your name will be added to the guestlist - you'll just need to give your name on the door.
• the release date for physical copies of this album is 13th june 2023. you will be able to collect the album at the show.
• please wait for an order notification to show your album is ready to collect before coming in to collect your copy.
• this page is for entry to the dream wife show - to purchase copies of 'i don't know' without entry to the show, please head here.