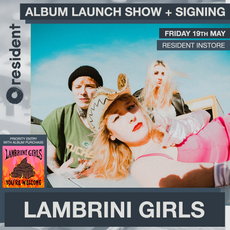 boys in the band
terf wars
mr lovebomb
lads lads lads
help me i'm gay
white van
fuck myself (live)
big dick energy (live)
Lambrini Girls
'You're Welcome' EP launch show
at resident music, brighton - Friday 19th may 2023 (all ages - under 14s can come for free)
every resident that's had the pleasure of seeing these fellow brightoners live knows to be very excited about any release from this raucous punk trio.
Support these local heroes by grabbing a copy of their debut ep, and come down to see possibly the instore of the year!
running timings : 6:30pm start.
• no actual tickets are issued for the show – you will get an order confirmation & your name will be added to the guestlist - you'll just need to give your name on the door.
• the release date for physical copies of this album is 19th may 2023. you will be able to collect the album at the show.
• please wait for an order notification to show your album is ready to collect before coming in to collect your copy.
• this page is for entry to the lambrini girls show - to purchase copies of 'you're welcome' without entry to the show, please head here.