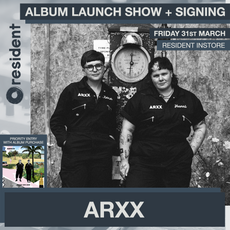 Baby Uh Huh
Deep
Not Alone
God Knows
Ride or Die
Call Me Crazy ft. Pillow Queens
Stuck On You
What Have You Done
Never Want To Go Back
The Last Time
Iron Lung
Outro
arxx
'Ride Or Die' Album Launch Show
at resident music, brighton - friday 31st march 2023 (all ages - under 14s can come for free)
brighton based alt rock duo are set to bring their infectious & energetic noise to our shop ON the RELEASE DAY of their debut album 'ride or die'!
• running timings : 6:30pm start.
• no actual tickets are issued for the show – you will get an order confirmation & your name will be added to the guestlist - you'll just need to give your name on the door.
• the release date for physical copies of this album is 31st march 2023. you will be able to collect the album at the show.
• please wait for an order notification to show your album is ready to collect before coming in to collect your copy.
• this page is for entry to the arxx instore show - to purchase exclusive signed copies of 'ride or die' without entry to the show, please head here.