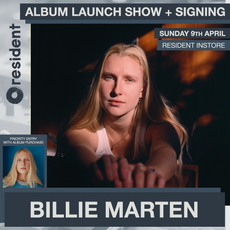 new idea
god above
just us
i can't get my head around you
willow
acid tooth
devil swim
i bend to him
nothing but mine
arrows
tongue
this is how we move
drop cherries
BILLIE MARTEN
'Drop Cherries' album launch show
at resident music, brighton - sunday 9th april 2023 (all ages - under 14s can come for free)
the amazing billie marten returns to resident to treat us to tracks from her new album 'Drop Cherries' on easter sunday.
running timings : 5:30pm start.
• no actual tickets are issued for the show – you will get an order confirmation & your name will be added to the guestlist - you'll just need to give your name on the door.
• the release date for physical copies of this album is 7th April 2023. if you have selected 'pick up in shop' you will be able to collect the album at the show.
• please wait for an order notification to show your album is ready to collect before coming in to collect your copy.
• this page is for entry to the billie marten instore show - to purchase signed copies of 'drop cherries' without entry to the show, please head here.