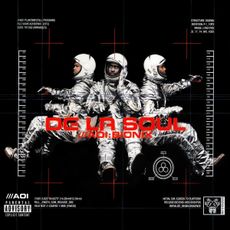 Intro
Bionix
Baby Phat
Simply
Simply Havin'
Held Down
Rev. Do Good # 1
Watch Out
Special
Rev. Do Good # 2
The Sauce
Am I Worth You?
Pawn Star
What We Do (For Love)
Rev. Do Good #3
Peer Pressure
It's American
Trying People
DE LA SOUL
AOI: BIONIX (2023 reissue)
chrysalis records
De La Soul's sixth full length album, released on December 4, 2001.
The first single, "Baby Phat" featuring Yummy Bingham and Devin the Dude, was an ode to larger sized women Elsewhere, "Held Down", featuring Cee- Lo, found Posdnuos in an introspective mood as he mused on fatherhood, religion, and fame. Slick Rick also made an appearance on "What We Do (For Love)"; a humorous song about puberty and sexual discovery.

The album featured skits with a character by the name of Reverend Do Good, which worked as social commentary as well as the intros and outros of the songs. The final Reverend Do Good skit acts as one final advertisement for Ghost Weed as heard on De La Soul's previous album, Art Official Intelligence: Mosaic Thump. A mischievous teenager takes a hit of the substance, then morphs into Slum Village frontman J Dilla, who provides the intro and outro to the marijuana themed song "Peer Pressure" (which he also produced).