other titles...
See also...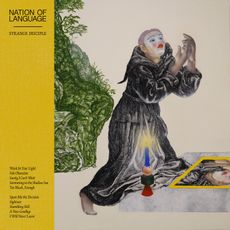 Weak In Your Light
Sole Obsession
Surely I Can't Wait
Swimming in the Shallow Sea
Too Much Enough
Spare Me the Decision
Sightseer
Stumbling Still
A New Goodbye
I Will Never Learn
Nation of Language
Strange Disciple
Play It Again Sam
With a wicked sense for juxtaposing bouncy electronica with wryly observed lyricism, Nation of Language perfectly fill that hankering we almost always have for forlorn bangers!.
the Brooklyn band's third LP is one that is meant to invoke wandering, wondrous walks through city streets both foreign and familiar. as their first record to be fully created and released outside the confines of a pandemic-instilled lockdown, 'Strange Disciple' is centred on groove-driven songs and bouncing basslines that feel ambulatory and wayfaring, informed by the excitement of exploring new places that the band never thought they would see on tour.