other titles...
See also...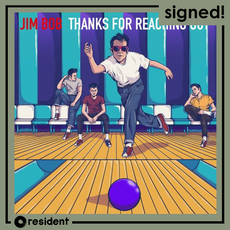 deluxe 2cd cover art



lp / cassette / CD1
thanks for reaching out

1 Thanks For Reaching Out
2 The Day Of Reckoning
3 Bernadette (Hasn't Found Anyone Yet)
4 Toxic Man
5 This Is End Times
6 We Need To Try Harder (We Need To Do Better)
7 Billionaire In Space
8 Sebastian's Gone On A Ridealong
9 goesaroundcomesaround
10 Befriend The Police
11 The Prince Of Wales
12 Thanks for Reaching Outro

CD2
THIS IS MY MIXTAPE

1. Are 'Friends' Electric?
2. New Rose
3. Country Comfort
4. Pretty in Pink
5. Sebastian
6. Labelled With Love
7. Geno

Jim Bob (carter the unstoppable sex machine)
Thanks For Reaching Out
cherry red
the carter usm singer's 12th solo album gifts us with 38 glorious minutes of pop, punk rock and devastatingly moving ballads.
More topical than an episode of Newsnight, with songs about Putin ('The Day of Reckoning'), the Taliban ('This Is End Times') and whoever 'Billionaire in Space' is about. It's not all doom and gloom though (it's mostly doom and gloom). 'Sebastian's Gone On A Ridelaong' is a hilarious psychobilly romp and the pre- coronation written 'Prince of Wales' is like a pub lock-in, it's Bowie's 'Kooks' for older people.