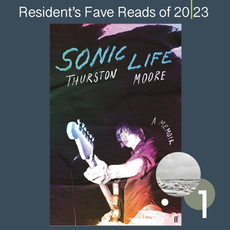 Sonic Life - Limited Edition
- Edition of 300 copies, 496pp printed 1/1 on 80gsm Munken Premium Cream with 1x8pp colour plate section
- Fine bound, hardback, numbered edition of Sonic Life, signed by the author, housed in a branded slipcase
- Unique, signed Polaroid print, taken by Thurston Moore in a portfolio
- Letterpress print of Sonic Life logo on 330gsm Somerset Radiant White Velvet
Thurston Moore
Sonic Life: a memoir
faber & faber
Thurston is like a musical Zelig - He traverses the aural landscape of the past 60 years, not just bearing witness to seismic goings-on but playing the role of a vital and active participant.
From his formative years booting up to New York in his battered Beetle, subsisting on stolen pierogi, and coming to terms with his father's death to the early days of Sonic Youth, sharing stages with his heroes, and riding the undulations of touring, it's the fire of experience that lights up the pages of 'Sonic Life'. Moore's adoration for music is best shown in his ability to recount, with encyclopaedic veracity, essential details about the time he first saw The Stooges, or when he inexplicably grabbed Patti Smith's ankle, or inaugural Minutemen, Black Flag, and Minor Threat performances, or the galvanising power of music to rid him of the dreaded lurgy, or calming down a terror-stricken neighbour, fearing for the lives of Noise Fest's audience.
These subtle revelations forge the person who he is and he quietly reveals as much. Just as the George Marsh sample on DJ Shadow's 'Building Steam With A Grain Of Salt' explains - "The music's coming through me", so it is that Thurston best expresses himself in musical terms.
This is 'Sonic Life', after all.
"Moore's puppy-dog enthusiasm is infectious, and his voracious appetite for music bleeds through on every page." - Buzz Mag