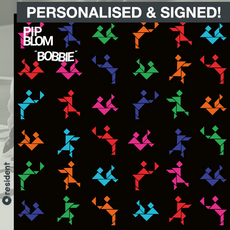 if you are ordering a personalised copy, please read below:
- write the exact message you would like written on the sleeve in the comments box when you place your order.
- maximum 50 characters total, including your name (if you want it on the message). no profanities.
- please check the spelling & content of your message before you confirm your order, as you won't be able to change it afterwards.
- please also be aware that your message is of course a request to the artist. we will not be able to get them to write anything they don't want to.
Not Tonight
Tiger
Red
Kiss Me By The Candlelight feat. Personal Trainer
I Can Be Your Man
Where'd You Get My Number?
Brand New Car
Is This Love? feat. Alex Kapranos
Fantasies
Again
Get Back
7 Weeks
PIP BLOM
Bobbie
heavenly recordings
For her third album, 'Bobbie', Dutch singer-songwriter Pip Blom decided to rip it up and start again.
After making her name as one of the brightest indie rock singers around through two albums – 2019 debut 'Boat' and 2021 follow-up 'Welcome Break' – and a lauded live show honed over gruelling years of touring, the new album sees her take a delightful left turn into thumping, carefree synth pop. This 12-track collection features collaborations with Personal Trainer and Alex Kapranos