other titles...
See also...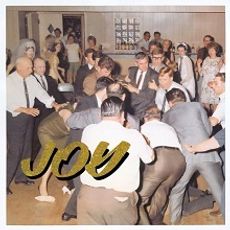 COLOSSUS
NEVER FIGHT A MAN WITH A PERM
I'M SCUM
DANNY NEDELKO
LOVE SONG
JUNE
SAMARITANS
TELEVISION
GREAT
GRAM ROCK
CRY TO ME
ROTTWEILER
idles
Joy as an Act of Resistance
Partisan Records
division, love, hate
celebrating unity
accepting your flaws

a true tour de force
a social climate mirror
smashed over your head

Wasting little time in releasing their follow up to their game-changing 'Brutalism', the most important band in Britain are back.
Digging deeper both musically and lyrically, they open up a fresh can of whoop-ass. From the cinematic chugging opener of 'Colossus', to the discordant wails of 'Love Song' and the balls-to-the-wall chaos of 'Rottweiler', the band have embraced a more dynamic approach to their highly energetic post-punk. Prepare
to be sonically steamrollered by barrages of jagged guitars, pummelling bass and skull destroying drums. The excitement from start to finish is like a firework - set it off, stand back and let it explode.

Lyrically, there are few finer contemporaries than Joe Talbot in summing up our modern world. Armed with his sharp, sardonic wit, he has the ability to make you laugh, to make you cry and to make you grow. He delivers such brutal, hilarious and quite frankly catchy one liners with ease. In particular the track 'NFAMWAP' with the utterly fantastic "you're not a man you're a gland, you're one big neck with sausage hands" or the politically poetic "a heathen from Eton, on a bag of Michael Keaton". If telling stories of modern love through Dirty Dancing motifs is for you, check out the line "I carried a watermelon, I wanna be vulnerable" - what more can you ask for?! While the storytelling is heavily dependant on humour, it takes a far more personal and vulnerable approach on the track 'June', an utterly heart-breaking piece documenting a world changing tragedy. If your eyes are dry by the end, you are dead inside.

Never far away from the dark side though, is the light. Their messages of positivity are scattered throughout the album. Take note from Joe and "love yourself" - it's highly important that you do.

Our love for this band was further cemented during their incredible out-store performance. If you were lucky enough to be there, we're sure you can understand. It was definitely one of the most thrilling events we have ever have the privilege of being involved in. So, whether you're a returning fan, a new convert, or if you're yet to hear them, we know you're gonna be blown away. This one will be blaring loud for some time to come for sure!