other titles...
See also...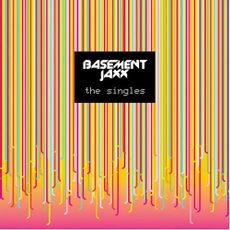 Red Alert
Good Luck
Romeo
Oh My Gosh
Bingo Bango
Where's Your Head At
Rendez-Vu
Jump N' Shout
Lucky Star
Plug It In
U Don't Know Me
Do Your Thing
Jus 1 Kiss
Flylife
Samba Magic
Basement Jaxx
The Singles
XL
released for the first time on vinyl, 'the singles' spans everything from the proto-punk garage of early hit 'flylife' to the motown monster that is 'good luck'.
the collection takes in worldwide smashes like 'red alert', 'where's your head at', 'rendez vu' & 'romeo' along the way. where most greatest hits albums fall down at least once there can be no argument that this collection delivers the bangers & nothing but. both a timely reminder of just how much the jaxx have turned dance music inside out & the nonchalant ease with which they continue to drop new ever more exciting sub-cultural car crashes on airwaves & dancefloors around the world.