Sun Araw
The Saddle of The Increate
Sun Ark
---
Tom recommends: "truly odd, and yet somehow his most accessible album to date, cameron stallones continues to peel away the last vestiges of psychedelic wash from his music to leave us with a sparse, jarring, humorous, fun, weirdly pop, occasionally groovy and completely singular album of post-everything madness.
..somehow still appropriate as barbecue music"

Arthur Russell-esque rhythm experiments, black moth super rainbow playfulness together and the ability to boil pop music down to its bare bones make this a fantastically weird listen. weirdly the most grabbing thing is how sparse it is – they really know how to make you lean in to pay attention to even the most spacious moments. it may have been composed as "a meta-physical romantic comedy of self about the roping and directing of cattle" but the end result is simply an eclectic, unpredictable yet accessible and hugely rewarding album of experimental music eating itself.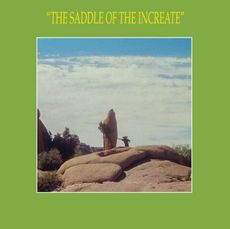 Tracklist
A Golden Boot
Lassie
A Chute
Orthrus
Spurs
Campfires
Hop Along
Slope Of Geryon
Blue Gene
Amplitude
40 Hooves
Two Creeks
Release
On Plateau