Damien Jurado
Visions of Us On The Land
Secretly Canadian
---
the warmth that emanates from the final installment of the seattle native's cosmic trilogy provides an intoxicating aural high - the perfect meeting point between neil young, nick drake & randy newman.
Jurado's new opus extends the hot streak ignited by 2012's 'Maraqopa' & was followed by 2014's 'Brothers & Sisters of the Eternal Son' (one of the year's best records) - the autumnal orange glow to the spring green & summer yellow that preceded it. cut again with label mate & super producer Richard Swift, this lightly psychedelic, gloriously orchestrated record is a genius piece of work that will delight fans of matthew e.white, fleet foxes or father john misty. "Swift & Jurado didn't throw everything against the wall in hopes that something oddly beautiful would emerge. They arranged it in such a way that odd beauty is communicated" - Pitchfork.

derry recommends: "Honestly didn't think he'd ever top the astonishing 'Brothers And Sisters Of The Eternal Son' but this manages it with ease"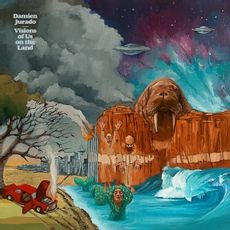 November 20
Mellow Blue Polka Dot
QACHINA
Lon Bella
Sam and Davy
Prisms
ONALASKA
TAQOMA
On the Land Blues
Walrus
Exit 353
Cinco de Tomorrow
And Loraine
A.M. A.M.
Queen Anne
Orphans in the Key of E
Kola