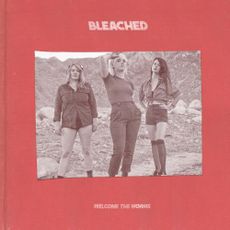 Keep On Keepin' On
Trying To Lose Myself Again
Sleepwalking
Wednesday Night Melody
Wasted On You
Chemical Air
Sour Candy
Desolate Town
I'm All Over The Place (Mystic Mama)
Bleached
Welcome The Worms
Dead Oceans
deeply personal yet unrelentingly powerful and loud, the clavin sisters use c86 fuzz, ramones force and the go-go's ferocity to fill their album with sun soaked raw rock.
while they'll no doubt get compared to Vivian girls and the dum dum girls, their song structures owe more to widescreen 60's phil spector productions and the muddier end of the cbgb sound, all reflected through their desert punk rock screen. a hugely ambitious album that, despite its complex lyrical subjects, remains endearingly fun throughout. "Bleached display considerable growth from their debut." – consequence of sound

Mark recommends: "the perfect blend of guitar driven fuzz pop and garage rock"