Claud
Super Monster
Saddest Factory / Dead Oceans
---
Phoebe Bridgers went & started a record label & her first signing more than lives up to the hype! Powerfully vulnerable in their lyrics with more hooks than Velcro, Claud takes '90s arcing alt-rock & the rapturous pop of '00s chart-toppers & reimagines them in a distinctly Gen Z palette.
from beginning to end, these sparkling pop tunes on the inaugural release on phoebe bridgers' saddest factory records capture the assorted stages of a relationship's delight & dejection in a palette we're familiar from the works of frankie cosmos, beabadoobie & jay som. the giddy sensation of a first kiss during the beaming "overnight," the heartsick longing of a pending rejection during the yearning "jordan," the reluctant call for a requisite breakup during the smouldering 'ana'.
'super monster' is like a compulsive compilation that claud culled from a lifetime of musical enthusiasms - the arcing alt-rock of '90s airwaves, the rapturous pop of '00s chart-toppers, the diligent genre-hopping of modern online life. claud emerges as the chameleonic mastermind of this mélange, channelling all of love's emotions into songs so sharp they make even the hardest times feel fun.

'super monster' features a wealth of close friends & collaborators including former toast band-mate, joshua mehling, as well as nick hakim (who harmonises on 'ana') & unknown mortal orchestra's jake portrait who adds synth & guitar. these friends & more lift the album's tender songs skyward.

the album title & artwork are inspired by an unpublished johnston painting called "claud & the supermonster", as an ode to johnston's kindred outlook. the cover claud painted - a stunningly surreal self-portrait, as rich as these deceptively sophisticated songs - offers an homage to johnston's universe & a kind of introduction to claud's own world.
James says "I've not fallen for an album's this quickly since Frankie Cosmos' 'Next Thing'..."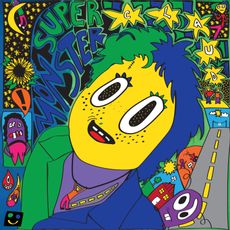 1. Overnight
2. Gold
3. Soft Spot
4. In or In-Between
5. Cuff Your Jeans
6. Ana ft. Nick Hakim
7. Guard Down
8. This Town
9. Jordan
10. That's Mr. Bitch To You ft. Melanie Faye
11. Pepsi
12. Rocks At Your Window
13. Falling With The Rain ft. Shelly
Dinked edition 88
● Green Blue Splatter Vinyl *
● Flexi Disc with Bonus Track *
● Signed Print *
● Numbered Edition *
Limited Pressing of 500
*exclusive to the Dinked Edition