other titles...
See also...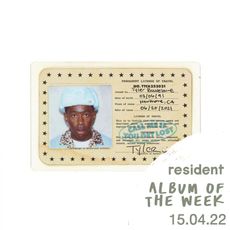 SIR BAUDELAIRE (feat. DJ Drama)
CORSO
LEMONHEAD (feat. 42 Dugg)
WUSYANAME (feat. Youngboy Never Broke Again & Ty Dolla $ign)
LUMBERJACK
HOT WIND BLOWS (feat. Lil Wayne)
MASSA
RUNITUP (feat. Teezo Touchdown)
MANIFESTO (feat. Domo Genesis)
SWEET / I THOUGHT YOU WANTED TO DANCE (feat. Brent Faiyaz & Fana Hues)
MOMMA TALK
RISE! (feat. Daisy World)
BLESSED
JUGGERNAUT (feat. Lil Uzi Vert & Pharrell Williams)
WILSHIRE
SAFARI
tyler the creator
Call Me If You Get Lost
columbia
Never sitting still for a moment and never dipping below excellence, no matter which approach he chooses, tyler's 6th studio album is a masterclass in sparkling production and engaging writing.


PLEASE NOTE - due to distribution rules the LP edition is not available to customers in the United States.

Tyler, The Creator returns with his highly anticipated 6th studio album 'CALL ME IF YOU GET LOST' with features from Pharrell Williams, Brent Faiyaz and Lil Wayne. The album includes the previously-released songs "LUMBERJACK" and "WUSYANAME" as well as "JUGGERNAUT".

"With DJ Drama in tow, Tyler thrives in the realm of the rap mixtape, which allows him great freedom to explore every facet of his talent as a producer, writer, and vocalist" 8.4 – best new music – pitchfork.

KURTIS: Mate this record is all over the map but Tyler has never been a destination kinda dude. Lyrically as dense as anything Kendrick is putting out with beats that could sit just as easily on a Genesis album as a Death Grips. Took me a while to pick apart this record but once I laid it out it truly came into its own, and is simply miles ahead of both Kanye's and Drake's latests. Several well picked features only add to the kaleidoscope with NBA Youngboy's and Domo Genesis really shining!