anna phoebe
sea souls
eat the peach
---
Anna's sweet, delicate & mournful sounds have been diligently championed by Mary Anne Hobbs, who first brought this super talent to our attention.
Awash with stirring strings, watery samples & trembling piano, we dream of hearing this performed in a church one day soon.
Anna Phoebe has dredged a deep emotional pool with various strings, guitar, piano, and haunting vocals to create a beautiful ode to the waters lapping at our shores. In March 2020, I was asked to produce a ten-minute package for a BBC Radio arts show. Living in Deal on the Kent coast, I went down onto the beach to sit and think about what I wanted to write about. The sea is such a source of comfort, the sound of the waves and the line of the horizon a daily form of meditation and reflection. I filmed and recorded the sea then went back to my studio. I found it was easier to express my emotions through music rather than words, and so the opening track, 'By the Sea' was born. Mary Anne Hobbs heard the piece and played it on her BBC Radio 6 Music show. She suggested that I release it, and that's how Sea Souls started. This album takes you on a journey through the soul, each piece on this album inspired by how the sea and the weather reflected my emotions that day. 2020 was such a turbulent year and each track on this album represents a different snapshot of that time. Many of the pieces were recorded in a series of single improvised takes, and some were worked on over a period of time. Like the commitment to the improvised takes on violin, viola, piano, recorder, bass and guitar which pervade the music, this album is an acceptance of flaws and imperfection, letting go of the idea of perfection.

JAMIE: Certain records come along which just hit you in the heart. This album pretty much punched a hole in my chest! It is beauty, tranquillity, emotion & character wrapped up in the sound of the sea. Dip a toe in the water, ride the wave, submerge your soul and bask in the healing light of Anna Phoebe's music.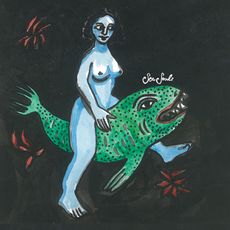 By The Sea
Light On Waves
Horizons
Sirens
Moon
Breathe
Undercurrent
Sea Drift I
Sea Drift II
Sea Drift III
Sea Souls
Beyond Horizons