other titles...
See also...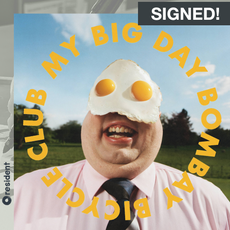 Just A Little More Time
I Want To Be Your Only Pet
Sleepless (feat. Jay Som)
My Big Day
Turn The World On
Meditate (feat. Nilufer Yanya)
Rural Radio Predicts The Rapture
Heaven (feat. Damon Albarn)
Tekken 2
Diving (feat. Holly Humberstone)
Onward
Bombay Bicycle Club
My Big Day
Mmm…Records Ltd
If you were lucky enough to be in the tiny minority that attended their packed show at the Toy Museum, you'll need no reassurances - this new record brings 6 string jubilation in droves! Egg on our faces if we're wrong!.
.a powerful, expansive body of work, replete with an irrepressible dose of joy. 'My Big Day' also found the band's studio door wedged open for a collaborative experience, inviting the likes of Jay Som, Nilüfer Yanya, and Holly Humberstone and Damon Albarn who all feature. On first listen, Bombay Bicycle Club have opened up the curtains and let this revelatory set of vibrant, joyous compositions bask in the sunshine. It's an album that means business, sculpted by one of Britain's best guitar bands.