other titles...
See also...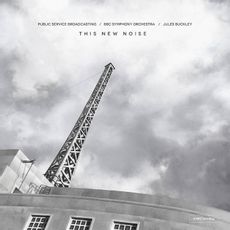 Ripples in the Ether (Towards the Infinite)
This New Noise
An Unusual Man
A Cello Sings in Daventry [ft Seth Lakeman]
Broadcasting House
The Microphone (The Fleet is Lit Up)
A Candle Which Will Not Be Put Out
What of the Future? (In Touch with the Infinite)
public service broadcasting
This New Noise
test card
If you caught last year's generous radiophonic display at the Royal Albert Hall, you'll know just how exquisite and neck-hair bothering this set from the London quartet was and they've only gone and beefed it up beyond 11, imbuing the original recordings with a dizzying depth and voluminous sense of space.
It's like hearing it again for the very first time. the newly remixed and remastered live recording of their acclaimed 2022 BBC Proms show at London's Royal Albert Hall. A celebration of the power of radio written in recognition of the centenary of the BBC, 'This New Noise' saw the band joining forces with the 88 piece BBC Symphony Orchestra, conducted by Jules Buckley. A standout performance from 2022's BBC Proms, it received 5*s in The Telegraph who called it "a resonant, timely and ultimately touching show". Founder member J. Willgoose, Esq. remixed the concert from scratch, bringing out even more depth and texture from a multi-layered performance and showing it in a new light.