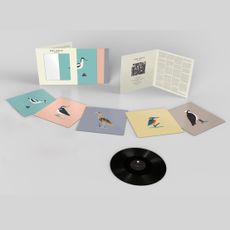 Avocet
Lapwing
Bittern
Kingfisher
Osprey
Goldfinch
Bittern (live in italy, 1977 (download only)
Kingfisher (live in italy, 1977 (download only)
Avocet (live in italy, 1977 (download only)
Bert Jansch
Avocet (art print edition)
Earth Records
Bert Jansch was often quoted as saying "I'm not playing for anyone, just myself" and this feels no more apparent than on 1979's 'Avocet', his beautifully meditative paean to British birds.
This isn't to say that Jansch was throwing commercial success to the wind, or was unaware of his audience, more that this album feels like a uniquely personal reflection of him.

reissued as part of 'Bert Jansch 80', celebrating the enduring legacy of Bert Jansch's peerless guitar playing and songwriting, this special "art print edition" comes with 6 high-quality, lithograph art prints (by UK illustrator Hannah Alice) representing each of the birds on the album, held in a heavy board die-cut gatefold sleeve. This unique packaging is fully interactive - the cover image is interchangeable with any of the prints, though each one is perfectly frameable too. This edition also features three bonus tracks as a download, recorded live in Italy in in 1977 ('Bittern'; 'Kingfisher'; 'Avocet'), as well as Danny Thompson's recollections of the making of 'Avocet', recorded by Dave Thompson (Mojo Magazine) in typical style.