other titles...
See also...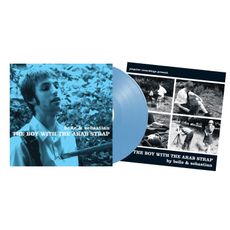 It Could Have Been A Brilliant Career
Sleep The Clock Around
Is It Wicked Not To Care?
Ease Your Feet In The Sea
A Summer Wasting
Seymour Stein
A Spaceboy Dream
Dirty Dream Number Two
The Boy With The Arab Strap
Chickfactor
Simple Things
The Rollercoaster Ride
belle & sebastian
The Boy With The Arab Strap (25th Anniversary "Pale Blue Artwork" Edition)
JEEPSTER
Look it up, this doesn't exist in usual place - savour 25 years of soft dancing and hard drinking with this resplendent pale blue disc and behind the scenes print!.
Twenty-five years after its original release, Belle and Sebastian have reissued their most popular lp in a luxury package including an exclusive art print of behind-the-scenes photos from the promo video for the album, taken by band member Sarah Martin.