other titles...
See also...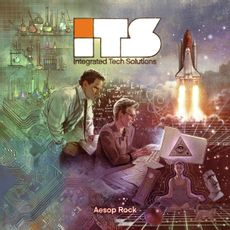 The ITS Way
Mindful Solutionism
Infinity Fill Goose Down
Living Curfew ( feat. billy woods)
Pigeonometry
Kyanite Toothpick [feat. Hanni El Khatib]
100 Feet Tall
Salt and Pepper Squid
Time Moves Differently Here
Agressive Steven
Bermuda [feat. Lealani Teano]
By The River
All City Nerve Map
Forward Compatibility Engine [feat. Rob Sonic]
On Failure
Solid Gold
Vititus
Black Snow [feat. Nikki Jean]
AESOP ROCK
Integrated Tech Solutions
rhymesayers
Appropriately, the album sounds like the past and future at once; Largely self-produced, 'Integrated Tech Solutions' catches Aes at his leanest and most innovative, leveraging "Solutionism"'s careening bounce against the wistful "By the River" or the slow creep of "Salt and Pepper Squid".
The effect is a record that sounds itself like an organism growing, mutating, hurtling toward profitability-and then destruction. As fans have come to expect, Aes is cuttingly funny and slyly profound at once, whether recounting a childhood restaurant run-in with Mr. T ("100 Feet Tall") or quipping, on "Pigeonome- try," that "white dove is a pigeon-you motherfuckers is bigots." At the same time, 'Integrated Tech Solutions' is working on another parallel project: tracing the sprawl of modernity and cutting directly to its core. "I've been doing laps of the lost worlds," he raps on "All City Nerve Map," sounding at once wearied and reinvigorated. "I can draw a map to the raw nerve."