other titles...
See also...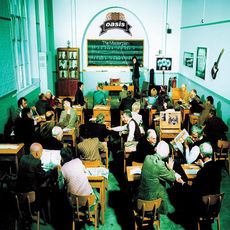 Acquiesce (Remastered)
Underneath The Sky (Remastered)
Talk Tonight (Remastered)
Going Nowhere (Remastered)
Fade Away (Remastered)
The Swamp Song (Remastered)
I Am The Walrus – Live Glasgow Cathouse June '94 (Remastered)
Listen Up (Remastered)
Rockin' Chair (Remastered)
Half The World Away (Remastered)
(It's Good) To Be Free (Remastered)
Stay Young (Remastered)
Headshrinker (Remastered)
The Masterplan (Remastered)
OASIS
The Masterplan (25th Anniversary)
Big Brother Recordings
Those Gallagher brothers sure like keeping a trick or two up their sleeves, and they don't get much more tricky (nor brilliant) than this collection of B-sides in name only.
'The Masterplan' is an extraordinary collection of B-sides originally featured on singles from Oasis' era-defining first three albums, 'Definitely Maybe' (1994), '(What's The Story) Morning Glory?' (1995), and 'Be Here Now' (1997). Far from being inferior to the singles they backed, many of the 14 tracks that feature on 'The Masterplan' have become as cherished as the band's biggest singles from that seminal period. The album includes tracks 'Acquiesce', 'Half The World Away', 'Talk Tonight', Oasis' iconic live cover of The Beatles' 'I Am The Walrus' and the epic title track. Noel has often described 'The Masterplan' as one of the best songs he has ever written. Formats include CD, Heavyweight Black LP and limited-edition Silver LP, to celebrate 25 years.