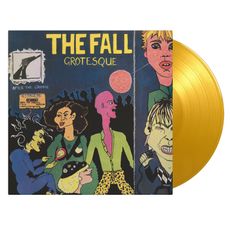 Pay Your Rates
English Scheme
New Face In Hell
C'n'C-S Mithering
The Container Drivers
Impression Of J. Temperance
In The Park
W.M.C - Blob 59
Gramme Friday
The N.W.R.A.
the fall
Grotesque (After The Gramme) (2023 reissue)
music on vinyl
If you've ever wondered how exactly did Mark E Smith write Elastic Man, well, gather round cos all of the answers you seek lie within this stonker of a record.
'Grotesque (After The Gramme)' is the third studio album by the Fall. The album reached number one on the UK Independent Chart, spending 29 weeks on the chart in total. The Fall's music at the time was described as "Mancabilly", and by Smith himself as "Country 'n' Northern". In 2020, Rolling Stone included Grotesque (After The Gramme) in its "80 Greatest albums of 1980" list, praising the band for its "ability to craft impossibly catchy songs that simultaneously sound like they're shaking apart at the seams"