other titles...
See also...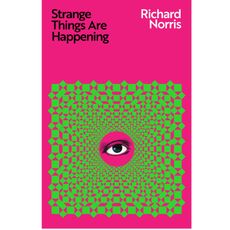 The accompanying 'Strange Things Are Happening' CD is a career spanning compilation which includes tracks from the seminal 'Jack The Tab' 1988 acid compilation, to The Grid's 'Floatation', through to later tracks as Beyond The Wizard's Sleeve with Erol Alkan, and a host of classic remixes and exclusive new tracks


Tracklist
The Grid - Floatation
Midlake - Roscoe (BTWS Re-Animation)
Warpaint - Disco/Very (Richard Norris Remix)
Franz Ferdinand - Ulysses (BTWS Re-Animation)
Beyond The Wizards Sleeve - Creation
Hollow Hand - Before Tomorrow (Richard Norris Avalon Mix)
Katy J Pearson - Willow's Song (Richard Norris Ritual Remix)
Hannah Peel - All That Matters (Richard Norris Mix)
Tomorrow Syndicate - Hyper-Receptive (Richard Norris Mix)
The Order of the 12 - Against The Tide
Alligator Shear - Balkan Red Alert (From 'JACK THE TAB')
Robert Fripp, The Grid - Milkwood
Mark Peters feat Dot Allison - Sundowning (Richard Norris Mix)
Oracle Sound - Stronger Together (Richard Norris Dub)
richard norris
Strange Things Are Happening
White Rabbit
A memoir by one of the most influential and ubiquitous underground British musicians of the past thirty years.
Leafy St Albans is an unlikely starting point for one of the great psychedelic/acid house musicians of his generation, but, like so many others who brought radical change to the counterculture, Richard Norris' story starts in the suburbs.
Strange Things Are Happening documents his journey from punk through the emerging DIY indie culture to producing the UK's first acid house album, Jack the Tab; being one of the only unsigned artists to grace the cover of NME, to being one of the first faces on the scene at Shoom and Spectrum during the 1988 Summer of Love; finding international fame with The Grid in the early 90s, to working with Joe Strummer and a cast of thousands as a remixer, writer and producer. Embracing a psychedelic lifestyle along the way, Strange Things Are Happening is a funny, improbable and frequently wild journey down the rabbit hole.
Richard Norris has been involved in almost every aspect of music and its business for many decades. This is an insider's tale of inspiration and collaboration, working with some of the most iconic artists in music and beyond. We travel to basement acid parties in London to ten thousand strong raves in Ibiza. From Amsterdam with Timothy Leary, to Tijuana with Shaun Ryder and Joe Strummer, on a bumpy ride in Joe's beat up 1955 Cadillac, to the customs hall at Heathrow with Sun Ra, Top Of The Pops, LA film sets, around the world and back again. Strange Things Are Happening is a celebration of creativity and passion, of chance meetings turning into lifelong friendships, and of what is possible with an independent spirit, with an open mind and heart. Not quite Do It Yourself, more Do It Yourselves - a testimony to how small groups of people can affect and change the cultural landscape; a story about doing what you love and being eternally curious; about the inevitable occupational dead ends and wrong turns that happen when you jump in headfirst, and what is learnt along the way.