Bonobo
Black Sands Remixed
Ninja Tune
---
bonobo's 'black sands' gets remixed by the cream of the current leftfield dance music crop.
ninja tune really have got together a strong cast for this one, & all the remixers genuinely add something to their re-interpretations meaning this goes far deeper than your average remix album. with names such as floating points, falty dl, mark pritchard, machinedrum, blue daisy, arp 101 & cosmin trg on board, this covers all bases, from skewed, blunted hip hop instrumentals to minimal techno to future soul & beyond.
The 3LP includes remixes that are not on the CD format.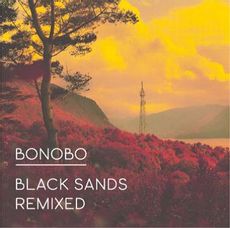 Tracklist
Prelude (Lapalux's Finger On The Tape Remix)
The Keeper (Banks Remix)
Kiara (Cosmin TRG Remix)
Eyesdown (Floating Points Remix)
Eyesdown (ARP 101 Remix)
Eyesdown feat. Andreya Triana & Dels
All In Forms (Falty DL Remix)
Ghost Ship
Stay The Same (Mark Pritchard Remix)
Eyesdown (Machine Drum Remix)
All In Forms (Mike Slott Remix)
Stay The Same (Blue Daisy 'Not Quite The Same' Remix)
Brace Brace
Black Sands (Duke Dumont's 'Grains Of Sand' Reconstruction Edit)
Bonus 7" (ltd editon only):
Prelude (Lapalux's Finger On The Tape Remix Edit)
Eyesdown (Machine Drum Remix Edit)
LP:
Kiara (Cosmin TRG Remix)
All In Forms (Falty DL Remix)
Eyesdown (ARP 101 Remix)
Prelude (Lapalux's Finger On The Tape Remix)
Kiara (Funkineven Remix)
Eyesdown (Machine Drum Remix)All In Forms (Mike Slott Remix)
Stay The Same (Blue Daisy 'Not Quite The Same' Remix)
Stay The Same (Mark Pritchard Remix)
All In Forms (Letherette Remix)
Ghost Ship
The Keeper (Banks Remix)
Black Sands (Duke Dumont's 'Grains Of Sand' Reconstruction Full Length)
Eyesdown feat. Andreya Triana & Dels
Brace Brace