DEL THE FUNKY HOMOSAPIEN
I WISH MY BROTHER GEORGE WAS HERE
TRAFFIC ENTERTAINMENT
---
produced by his cousin, ice cube, this benchmark album in alt hip-hop sees del's clever yet goofy flows
bolstered by p-funk inspired beats.
you can't talk about classic 90s hip-hop without talking about del the funky homosapien, one of the genre's more eccentric figures. though he's primarily famous today for his guest appearances with gorillaz & handsome boy modelling school, del has inspired new generations of alternative hip-hop artists with his humorous lyrics & eclectically funky production values. it all began here with his 1991 album, featuring the underground hits 'dr. bombay' & 'mistadobalina'.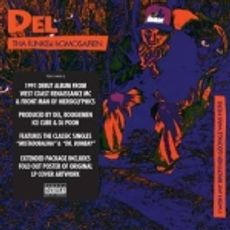 Tracklist
01. What Is A Booty
02. Mistadobalina
03. The Wacky World Of Rapid Transit
04. Pissin' On Your Steps
05. Dark Skin Girls
06. Money For Sex
07. Ahonetwo, Ahonetwo
08. Prelude
09. Dr. Bombay
10. Sunny Meadowz
11. Sleepin' On My Couch
12. Hoodz Come In Dozens
13. Same Ol' Thing
14. Ya Lil' Crumbsnatchers