THE KNIFE
shaking the habitual
BRILLE
---
at once as affirming & empowering as it is dark & brooding - Percussive, African inspired poly-rhythmic electro-pop melds into raw, techno-driven beats, then into strange ambient sonic art territory & back again.
This album takes you on an unfamiliar journey; different textures that shake you to the very core. After a long wait Karin & Olof have perfected what they were both so strong at, as Fever Ray & Oni Ayhun's immaculate production's edge combine the best pop elements of songs like 'Pass this on' with the darker repetition of 'Silent Shout' & the more avant-garde turns of 'Tomorrow in a year'. A sprawling, epic, at times overwhelmingly ambitious work of art, expect nothing but anticipate everything. It's no easy listen, but sure is a powerful, demanding one.

jez recommends : "Raw, unashamedly experimental, but within those hard edges are the most breathtakingly exuberant electro-pop songs and poly-rhythmic live percussion. A rewarding, ever-revealing, listen".

natasha recommends : "This may have come with a weight of expectation & although it occasionally misses the mark, this brooding & textural, challenging yet captivating avant-garde-electro-pop return from the swedes, delivers more & more with every listen."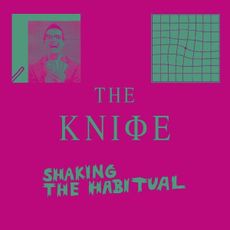 Tracklist
STandarD CD
1. A Tooth for an Eye
2. Full of Fire
3. A Cherry on Top
4. Without You My Life Would Be Boring
5. Wrap Your Arms Around Me
6. Crake
7. Raging Lung
8. Networking
9. Oryx
10. Stay Out Here
11. Fracking Fluid Injection
12. Ready to Lose
+ MP3 download of 19:22 long 'Old Dreams Waiting To Be Realized'

2CD
CD1
1. A Tooth for an Eye
2. Full of Fire
3. A Cherry on Top
4. Without You My Life Would Be Boring
5. Wrap Your Arms Around Me
6. Crake
7. Old Dreams Waiting To Be Realized
CD2
1. Raging Lung
2. Networking
3. Oryx
4. Stay Out Here
5. Fracking Fluid Injection
6. Ready to Lose

3LP
A1 A Tooth For An Eye
A2 Full Of Fire
B1 A Cherry On Top
B2 Without You My Life Would Be Boring
B3 Wrap Your Arms Around Me
B4 Crake
C1 Old Dreams Waiting To Be Realized
D1 Raging Lung
D2 Networking
D3 Oryx
E1 Stay Out Here (Shannon Funchess, Emily Roysdon and The Knife)
F1 Fracking Fluid Injection
F2 Ready To Lose