other titles...
See also...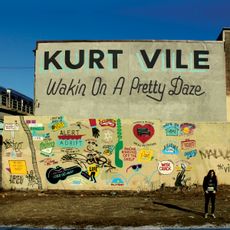 Wakin On A Pretty Day
KV Crimes
Was All Talk
Girl Called Alex
Never Run Away
Pure Pain
Too Hard
Shame Chamber
Snowflakes Are Dancing
Air Bud
Gold Tone
cd 2 - 'it's a big world out there (and i'm scared)' ep - 'deluxe daze (post haze)' edition only
Never Run Away (String Synth)
NRA Reprise
Feel My Pain
Snowflakes Extended
Wedding Budz
The Ghost Of Freddie Roach
(Reprise Reprise)
Kurt Vile
wakin on a pretty daze
Matador
These aren't jams - these are songs that glide as they unwind, with a natural charm, unfurling at their own extended & unhurried pace - but not a second of this loveliness is wasted or surplus.
these songs zero in on a hazy perfection with laser-guided precision & could keep on ringing out, exploring every possible wrinkle in their chord sequences for as long as Kurt could stand to play them. Along with his passion for the 4-track-toting titans of early 90's indie-rock, Vile also harbours a love for classic rock of substance – Creedence, Petty, Young - but Within the footprints he follows, he carves a distinct path of his own, making an art of dipping from introspective mellow rambles, to sky-scraping anthems; eager to rock out, equally unafraid to sing low & sweet. on his 5th solo album, kurt's crafted an album that would have sounded great 30 years ago, sounds great today & will still sound great 30 years from now. The new 'Deluxe Daze (Post Haze)' edition includes 'Wakin On A Pretty Daze' repackaged with the new 'it's a big world out there (and i am scared)' EP. 9/10 - album of the month, uncut.

deluxe 'daze (post haze)' 2cd edition
***features six (seven, but one is a reprise) previously unreleased songs, Recorded during the same sessions as the album. 'it's a big world out there (and i am scared)' sheds further light to the 'Wakin On A Pretty Daze' recording process with new songs, mixes & alternate versions of select album tracks. The original 'Air Bud' & 'Snowflakes Are Dancing' tunes are reprised as 'Wedding Budz' & 'Snowflakes Extended' respectively, whilst the brand new number 'Feel My Pain' channels (previous collaborator) Michael Chapman's finger-picking, distilled through the signature sound and style of Kurt Vile, Philadelphia's constant hitmaker.***

daniel recommends : "he has nailed his folkish, slackerish indie now, 8 minute + songs that seem nowhere near that long, turning aimlessness into a virtue."