colin stetson
new history warfare vol. 3 : to see more light
constellation
---
a brain-meltingly brilliant avant-jazz experience - stetson presses his arsenal of virtuosic bass saxophone techniques into the service of vivid, impassioned & conceptually astute songcraft.
'new history warfare vol. 3: to see more light' is the final instalment in a trilogy of solo albums & is stetson's most ambitious song cycle to date, again recorded live in single takes with a wide array of microphone positions & again mixed by groundbreaking producer ben frost. colin's membership in bon iver over the past two years has also led to vocal contributions from justin vernon for this record, who appears on 4 songs, with a diverse approach on each, & whose voice constitutes the only overdubbing on the album. the 15 minute centrepiece & title track is the true summary of his influences here - a tour de force of swirling arpeggiation, continuous breathing, pumping valves & vocalisations through the reed of the horn that gives way to a tremendous, screaming, sea-sawing dirge through the song's final movement. this latter stretch conjures a sort of saxophonic sludge metal & the album's heaviness references other sub-genres of metal as well, most notably in the hardcore blast of 'brute' (abetted by vernon's cookie monster barking) & the ambient grindcore throb of 'hunted'. in other instances, the album is soulful & even hymnal, especially where vernon's vocals play a lead role.

derry recommends : "colin adds justin vernon to his unique avant-jazz sax skronk. total genius".

leo recommends : "stetson's sax playing is staggering & lends the music an intense, physical quality but his virtuosity becomes overshadowed by the pure emotion conveyed. Sublime."

jez recommends : "stetson achieves an uncompromising, beautifully dirty sound, complimented by justin vernon's layered harmonies. a technically brilliant combination of jazz, post-punk and gnarly, minimalist composition. sublime."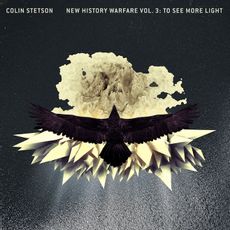 Tracklist
And In Truth
Hunted
High Above A Grey Green Sea
In Mirrors
Brute
Among The Sef (Righteous II)
Who The Waves Are Roaring For (Hunted II)
To See More Light
What Are They Doing In Heaven Today?
This Bed Of Shattered Bone
Part Of Me Apart From You