Kasabian
48:13
columbia
---
Produced by the band's guitarist Serge Pizzorno, the band's 5th album is packed with the group's trademark anthems & riffs but it's still a much more "stripped back" offering.
named for its running time, which is a total of 48 minutes & 13 seconds, Pizzorno said in a statement: "I felt that we had the confidence to be more direct, more honest with this album. I started to strip away layers rather than to just keep adding." Frontman Tom Meighan added: "Less is more, you know? It's direct. It is what it is. Just listen to it. We've had the confidence to lay ourselves bare. Serge has stripped it right back. It's unbelievable." Deluxe version includes 2 bonus tracks (the 'B sides of first two singles) & a dvd
containing 22 live tracks recorded at the massive midsummer hometown concert in Leicester's Victoria Park.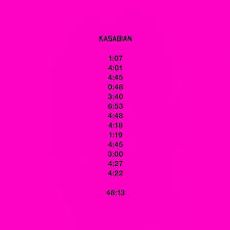 Tracklist
(shiva)
bumblebeee
stevie
(mortis)
doomsday
treat
glass
explodes
(levitation)
clouds
eez-eh
bow
s.p.s.