sleater-kinney
No Cities To Love
SUB POP
---
going straight for the jugular, the female post-punk trio release their 1st new album 10 years to a flurry of excitement & critical acclaim - a record of reinvention & re-ignition of an unparalleled chemistry to create new sounds & tell new stories.
Brownstein, vocalist / guitarist Corin Tucker & drummer Janet Weiss - who came crashing out of the 90s Pacific Northwest riot grrrl scene, setting a new bar for punk's political insight & emotional impact - released seven searing albums in 10 years before going on indefinite hiatus in 2006. now they prove that they still rock hard with a record that grapples with love, power & redemption without restraint. never listened to sleater kinney but love honeyblood? give this a listen - you're gonna love it! "a work of force & elegance, it shares the ferocious, watchful intelligence & formidable control of their best records" 5/5 - mojo, "their balance of the tense & clanging with the urgently poppy is impeccable" 8/10 - uncut.

*** Special vinyl edition: deluxe 180g white vinyl LP plus bonus 12" with etched B-side, packaged in a 6- panel gatefold with double-sided poster and presented in a hard cardboard slipcase ***
tom recommends: after years of being away they're back and brilliant and heavy as hell - i love it and if you ever come into the store while it's on i'll be the one headbanging to it.
christian recommends: now here's how to do a comeback – bracing and propulsive and rammed with great hooks, the riot grrl trio's attitude undimmed despite ten long years away.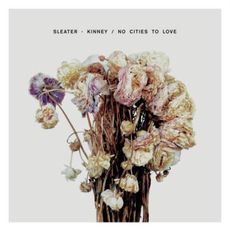 34
Tracklist
Price Tag
Fangless
Surface Envy
No Cities To Love
A New Wave
No Anthems
Gimme Love
Bury Our Friends
Hey Darling
Fade
The Fog And Filthy Air (bonus 12" track)
Heavy (When I Need It) (bonus 12" track)