NEIL YOUNG & PROMISE OF THE REAL
The Monsanto Years
warner brothers
---
New band, new causes - but rock's favourite guitar-toting curmudgeon keeps the rebel faith alive & kicking.
For this guitar-centric, full steam-ahead & highly-charged ecologically/environmentally-focused rock album, Young is joined by Promise of the Real, an LA-based rock band fronted by willie nelson's sons Lukas & micah. They provide the crazy horse upon which young rides into battle against gm food giants Monsanto & pretty much every totem of corporate power & political apathy. From tough opener 'a new day for love' onwards, you feel entirely at home; ragged glorious guitars, the eternal battle between optimism & rage, a set of preoccupations young has explored relentlessly since 'greendale', 'living with war', even 'rockin in the free world', played with the unique rock 'n' roll looseness young mastered circa 'tonight's the night'. "the album's nine songs share their rough-hewn country-punk qualities with young's liveliest studio recordings" 8/10 – uncut.
*includes making-of dvd.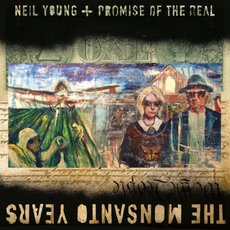 Tracklist
The Monsanto Years Tracklist:
A New Day For Love
Wolf Moon
People Want To Hear About Love
Big Box
A Rock Star Bucks A Coffee Shop
Workin' Man
Rules Of Change
Monsanto Years
If I Don't Know
The Monsanto Years DVD Tracklist:
Big Box
A Rock Star Bucks A Coffee Shop
Rules Of Change
Workin' Man
Monsanto Years
A New Day For Love
Wolf Moon
People Want To Hear About Love
If I Don't Know