Parquet Courts
human performance
Rough Trade
---
garage-infused slacker indie from the beloved brooklyn quartet has them back on 'sunbathing animal' form – an album that drips with the urbane witticism and angular licks of pavement, and the laid-back-yet-propulsive riffing of the velvet underground.
Recorded over the course of a year against a backdrop of personal instability, 'Human Performance' massively expands the idea of what a Parquet Courts record can be - the sonic diversity, time, and existential effort that went into its creation makes this the band's most ambitious to date. "Where previous outings had an abrasively throw-together edge, Human Performance is more thought-out, all about proper, often-Velvets-inspired songs… cohering it all is a fierce emotional purpose to the lyrics" – 4/5 Q

Ian recommends: "Parquet Courts third full album sees them effortlessly knocking out scuzzy pop gems and touching velvets inspired ballads. It is an album that gives so much more with every listen and personally my favourite 'courts album yet"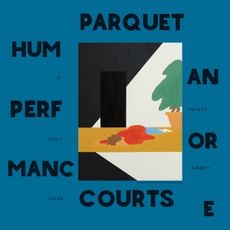 Tracklist
Dust
Human Performance
Outside
I Was Just Here
Paraphrased
Captive Of The Sun
Steady On My Mind
One Man, No City
Berlin Got Blurry
Keep It Even
Two Dead Cops
Pathos Prairie
It's Gonna Happen