THE LOW ANTHEM
eyeland
washington square
---
multi-dimensional future folk unfolds upon cinematic sound collages of ambience and noise in the 5th album from the providence, rhode island quintet.
Since the release of 2011's 'smart flesh' the band have recorded a soundtrack album & converted an abandoned theatre in their home town into in demand recording studio & live venue, allowing them greater freedom & control over their sonic experimentation, resulting in this perspective-shifting musical experience. " the very wonderful 'eyeland' finds them poised between the familiar and the less so... delicate, fleet foxes-like reverie… avant-noise experiments… splintered ambience and jazzy skronk" – 8/10 uncut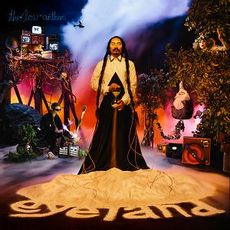 Tracklist
in eyeland
her little cosmos
the pepsi moon
ozzie
waved the neon seaweed
behind the airport mirror
in the air hockey fire
wzgddrmtnwrdz
am i the dream or am i the dreamer
dream killer
the circular ruins in euphio.