LCD Soundsystem
American Dream
dfa / columbia
---
The American Dream may be shattered but thank funk all men are not created equal - for God also created James Murphy.
It turns out James Murphy hadn't dumped us for good – he was just on a break. Just when we had finally battled through the shattering grief of losing one of the finest bands of our generation, the New York musician / producer / DJ dared to ignite hope within us again that maybe he wasn't losing his edge after all. Apparently we have his hero, David Bowie, to thank for this change of heart – yet another thing we're indebted to the late great polymath for.
Upon listening to LCD's 4th studio album, it doesn't take long to realise that whatever he did between bidding us an elaborate farewell in Madison Square Garden & this incredible rebirth, the time out's done him good. Within seconds, the motorik, industrial Suicide-synthscape of 'Oh Baby' has us transfixed and this then delivers us into the Eno/Byrne sculpted synth-punk-funk of '2 Other Voices'. From here on in we know we're safe. We can relax into this & stop doubting the commitment. This isn't a half-hearted comeback cash-in – this is the real deal.
The momentum never once wanes, the constant throb propelling us through 70 minutes of perfectly sequenced joyously apocalyptic post-punk-funk-disco genius. Although there are some straight-up LCD bangers here ('Tonite', 'Other Voices', 'Call The Police'), the really euphoric moments come from the more unsettling slow builds & mid-tempo rhythmic progressions (epitomised by the triptych of 'I Used To', 'Change Yr Mind' and the game-changing 'How Do You Sleep?'). The convulsive movements, brutal beats & menacing pulses are consistently gripping and brain nourishing. Joy Division, David Bowie & Talking Heads all make for obvious reference points but there are also significant nods to early U2, with Murphy's vocal delivery often recalling that of Bono's back when it wasn't embarrassingly uncool to reference him. It's a record that defies genres, transcends eras and ups the ante once again for all that follow in its wake.

The American Dream declares that "life should be better and richer and fuller for everyone". Sonically, James Murphy has fathered the embodiment of this ethos. Living the dream.
"'American dream' cannily takes the group's sonic identity into braver, darker realms" 9/10 – album of the month – uncut.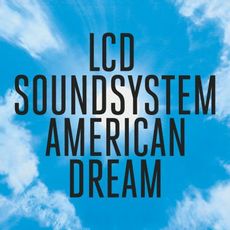 2
oh baby
2 other voices
i used to
change yr mind
how do you sleep?
tonite
call the police
american dream
emotional haircut
black screen