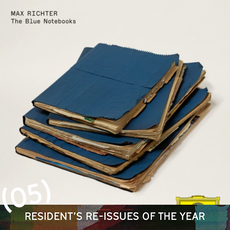 DISC 1:
01. 'The Blue Notebooks'
02. 'On The Nature Of Daylight'
03. 'Horizon Variations'
04. 'Shadow Journal'
05. 'Iconography'
06. 'Vladimir's Blues'
07. 'Arboretum'
08. 'Old Song'
09. 'Organum'
10. 'The Trees'
11. 'Written On The Sky'
DISC 2
01. 'A Catalogue Of Afternoons' (previously unreleased recording)
02. 'On The Nature Of Daylight' (Orchestral Version)
03. 'Vladimir's Blues 2018' (new arrangement, recorded at Air Studios, 2018)
04. 'On The Nature Of Daylight (Entropy)' (new arrangement, recorded at Air Studios, 2018)
05. 'Vladimir's Blues' (Jlin Remix)
06. 'Iconography' (Konx-Om-Pax Remix)
07. 'This Bitter Earth' / 'On The Nature Of Daylight'
08. 'Cypher' (brand new track, recorded at Air Studios, 2018) [Super Deluxe Edition Exclusive]
Max Richter
The Blue Notebooks (2018 reissue)
DEUTSCHE GRAMMOPHON
A territory-marking masterpiece mixing minimalist compositions with electronic elements to create lush cinema-scapes.
Still one of the most emotionally gripping modern classical releases, 15 years on we're treated to a beautifully expanded edition of the West German-born British composer's 2nd album. With new artwork and bonus content including new arrangements, remixes, and an unreleased new track, it's available as a 2CD, 2LP or 2CD in hardcover book set.

featuring his hit tracks "Vladimir's Blues", "Written on the Sky" & "On the Nature of Daylight", deutsche gramophone releases the 15th anniversary edition with brand new artwork & bonus content, including new arrangements, remixes, as well as a completely unreleased new track. the record was originally composed in the run-up to the 2003 invasion of Iraq. Richter has described it as "a protest album about Iraq, a mediation on violence – both the violence that I had personally experienced around me as a child & the violence of war, at the utter futility of so much armed conflict." The album was recorded about a week after mass protests against the war. It features readings from Franz Kafka's 'The Blue Octavo Notebooks' & Czesław Miłosz's 'Hymn of the Pearl' & 'Unattainable Earth'. Both readings are by beloved English actress Tilda Swinton.