BC Camplight
Deportation Blues
bella union
---
Like a trip through a crazed, frantic mind from which emerges this impossibly brilliant, opulent and era-defying wonky-pop collage.
You'll have to forgive us here, for this is a seriously tricky record to describe or categorise - all we can do is urge you to listen for yourself to see why it's becoming such a word of mouth success. Nothing about this record makes sense on paper and to be honest, even in writing this, it sounds like an album that we would normally run a mile from. The apparent aural grandiloquence. The histrionics. It was all a bit too much for our mellow heads at first. But 'I'm Desperate' just wouldn't go away and it was followed up by 'I'm In A Weird Place Now', which equally cemented itself to our consciousness. Then something really surprising happened. 'Deportation Blues' no longer sounded like a terrifying, alien language. Suddenly, it was like an interpreter had been sent to earth to help us make sense of it all and once the translation had taken place, a magical musical panorama emerged.

Bella Union head honcho / once-Cocteau Twin, Simon Raymonde, clearly has an ear for a musical maverick with no regard for sonic conventions – Father John Misty, John Grant, Ezra Furman – all labelmates with a similar epic "throw everything at it and see what sticks" approach to their craft. Brian 'BC Camplight' Christinzio has been extraordinarily bold on his 2nd release for the label, magpieing his way from 50s rock 'n' roll to the modern day, mashing together a broad spectrum of influences (usually within the same song) to make a flamboyant and brilliantly bonkers art-prog-rock opus. As his aforementioned labelmates and the likes of Field Music have also been proving of late (along with the likes of Queen, Roy Wood / Wizzard, Todd Rundgren and 10CC long before them), this kind of musical bravery can result in the most striking, exhilarating and memorable music.

'Deportation Blues' delivers an electrifying set of songs that traverse Jerry Lee Lewis's rock 'n' roll, Elton John's singer-songwriter piano classicism, Tears For Fears's jazzy quests, Talk Talk's kaleidoscopic adventures, Suicide's throb, sci-fi soundtracks and Arcade Fire's gnarly synthpop, visiting a whole host of other musical landmarks in between, yet never sounding contrived or pastiche. What initially sounds haphazard and fragmentary, with constant changes of mood, tempo and style, eventually reveals itself as fantastically coalesced, hooky, enduring.

You will be left in a 'Weird Place' by the end of this Deportation to another universe for sure - and all the richer for it.
"utterly compelling it is too, its piecemeal approach taking the fractured pop of van dyke parks into a realm of synth-deep neurosis, droning chords and stoned piano jazz, managing to somehow square a circle connecting prince, suicide and dennis Wilson" 8/10 – uncut.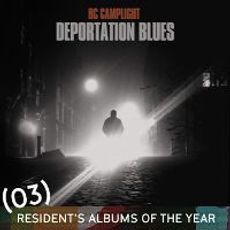 Tracklist
Deportation Blues
I'm in a Weird Place Now
Hell or Pennsylvania
I'm Desperate
When I Think of My Dog
Am I Dead Yet?
Midnight Ease
Fire in England
Until You Kiss Me