nathan salsburg
Third
No Quarter
---
one of his generation's most idiosyncratic guitarists conjures a set of sublime mastery – a thing of compositional nuance yet gorgeous acoustic surfaces.
The songs distil a love of old-time dance music and rural ragtime, the melody-centric compositions of American guitarists Peter Lang and William Ackerman, and the work of Scottish and English folk-revivalists. Salsburg has quietly, persistently established a style marked by a depth and a complexity that are utterly his own. riyl jim ghedi, william tyler, and max ochs. "a delightful work of synthesis that's powered by Salsburg's ability to have fun and move freely within various moods and modes, an essential element of the folk tradition often lost among puritanical revivalists. Salsburg absorbs and celebrates the past but cherishes the need to create something of one's own from it." - npr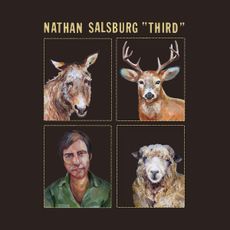 Timoney's
B.B.Impossible Air
Planxty Davis
A Hovering
Ruby's Freilach / Low Spirits
The Walls of the World
Sketch From Life
Exilic Excursions
Offering.