other titles...
See also...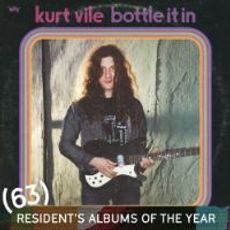 Loading Zones
Hysteria
Yeah Bones
Bassackwards
One Trick Ponies
Rollin With The Flow
Check Baby
Bottle It In
Mutinies
Come Again
Cold Was The Wind
Skinny Mini
(bottle back)
Kurt Vile
Bottle It In
Matador Records
yet another stunning display of songwriting prowess from the Pennsylvanian guitar maestro, delivered with an inventive & meticulously honed musicianship.
Every song, whether it's a concise & catchy pop composition or a sprawling guitar epic, becomes a journey unto itself, taking unexpected detours, circuitous melodic avenues, or open-highway solos. Vile's inventive approach to guitar is a result of his precise, witty playing style, which turns every riff & rhythm into points on a map & takes the scenic route from one to the next. he revels in the minutiae of the music, emphasising how other instruments interact with his guitar & voice, how the glockenspiel evokes cirrocumulus clouds on "Hysteria," how Kim Gordon's "acoustic guitar distortion" engulfs everything at the end of "Mutinies". "however eccentric & laidback his expression, it's as masterfully distinctive as that of any amateur" 8/10 – uncut.

***dinked edition - Die-Cut Sleeve - Custom Rounded Corners - Ltd to 800 numbered copies to Dinked Shops only***