the comet is coming
Trust In The Lifeforce Of The Deep Mystery
IMPULSE
---
Believe the sleeve – for Yes! - this is an otherworldly and colourful dance, jazz, prog, sci-fi record, draw - ing equally from King Crim - son and The Mahavishnu Orchestra / Miles Davis as they do from System 7 or Bernard Fevre.


Another year, another top 10 spot for a Shabaka Hutchings joint. This time, instead of leading the charge on the propulsive punk jazz of Sons Of Kemet, he's joined by Soccer96's Betamax and Danalogue. Expansive astral vision, stuttering grime beats and sci-fi weirdness make this genre hopping opus sound enormous, wide-eyed and loose, yet never without focus. It's the futurism of Sun Ra made by a trio that love J Dilla, Autechre and library music as much as jazz.
Over the course of these 46 minutes, the London trio hops from groove to groove, without being rushed or being sluggish, always allowing each separate part to grow and expand naturally. Danalogue's synths swell and bubble before King Shabaka (as he's known in Comet Is Coming), takes over the melody with a few carefully considered saxophone blasts. Everything is underpinned by Betamax's drumming, which ingeniously both subtly holds pace and drives the tracks forward. Their imagination runs wild, freely flowing from the theoretical and technical to joyous abandon, bringing to life what previously only seemed like imagined realities. This is largely an instrumental record (albeit one that sounds lyrical through its creative instrumentation) but on 'Blood Of The Past', Kate Tempest effortlessly weaves into the 8 minute burner when it opens up in the middle for the wordsmith to bring us back to earth with a punchy and unforgiving decry of modern life.
While the record undoubtedly exudes elaborate technical prowess and complicated time signatures, it never does so at the expense of the tune and most importantly, they never dilute the fun. It may be experimental and it may be jazz but at its heart it's three people playing with disparate influences, revelling in their collaborative output. The spirit and energy of their enjoyment pervades the whole record but it's never indulgent or self-congratulatory.
Leave your preconceptions at the door for this one – it's a jazz record but it's not difficult to navigate, it's electronica but it's organic and stays rooted in the physical instruments that accompany it. It's a complete festival set from the hands-in-the-air bangers to the laser guided comedowns. It's a genre, a sound, a vibe, a party all of its own. It's The Comet Is Coming.

"If this is jazz, it's jazz for football hooligans, and it is utterly glorious" - The Quietus.
"spiritual synths meet sax for pioneering, futuristic jazz" 8/10 – Uncut.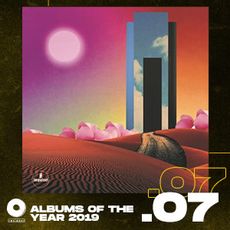 Because The End Is Really The Beginning
Birth Of Creation
Summon The Fire
Blood Of The Past (feat. Kate Tempest)
Super Zodiac
Astral Flying
Timewave Zero
Unity
The Universe Wakes Up