Tropical Fuck Storm
Braindrops
Joyful Noise Recordings
---
the aussie band's second is a glorious prism of psychedelic post-punk crammed full of vignettes that pit swaggering, wooze-soaked guitar riffs against passages of melancholic repose, with a bigillion unique moments in between.
one of the most mercurial albums you're likely to discover on either side of the equator, 'Braindrops' is a jarring and exhilarating experience, full of pulsating grooves, dissonant experimentation and unsettling dystopian plot-lines. Featuring members of the now-defunct The Drones, The Melbourne-formed band's wealth of rock & roll experience is what allows them to so expertly deconstruct and distort the genre's norms. Gareth liddiard cites 'Doc at the Radar Station'-era Captain Beefheart as a key sonic touchstone, and 'Braindrops' certainly shares the Captain's penchant for pounding abstract grooves. Fans of the birthday party, black midi, crack cloud and the flaming lips will find appealing moments throughout, but this is an album that's very much setting trends, rather than following them. "one of the most vital acts on the planet right now" 5/5 – narc.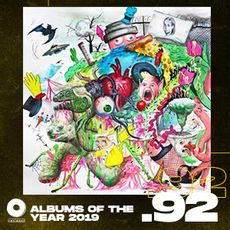 Paradise
The Planet Of Straw Men
Who's My Eugene?
The Happiest Guy Around
Maria 62
Braindrops
Aspirin
Desert Sands Of Venus
Maria 63
dinked edition bonus 7"
The Planet Of Straw Men
Can't Stop
dinked edition 22