Thom Yorke
ANIMA
XL Recordings
---
Thom's glitchy apocalyptic euphoria emerges from "incredible bouts of anxiety" and although it's tense and skitterish at times, it also feels like he's mellowed – like he's stopped battling with himself.


His 3rd solo album is all the better for the freedom he appears to be granting his marvellous mind. 'Anima' is a record that undisputedly stands autonomously of his work with Radiohead, even though it bears many parallels and doesn't require the biggest leap of the imagination to hear Jonny Greenwood fleshing these tracks out with his knob-twiddling wizardry or Phil Selway's polyrhythmic drum patterns barely keeping Thom in line.
Following the release of the transcendent 'Suspiria', his impressive debut foray into soundtrack work, he has notably grown in confidence without his fellow Heads. Here we are hearing Thom firmly staking his claim on the turf that Aphex Twin first fertilized and that has since cultivated the likes of Four Tet, Flying Lotus and Autechre. He retains those eerie synths, with thrumming basslines coursing beneath and the deepest, most personal glimmers of his consciousness are revealed.
Thom is the master of making machines sound like they have a beating heart - and never more so than on 'Anima'. Despite his dystopian techno being built on glitches and drones, it radiates tenderness and warmth from a sparse instrumental palette. It even goes beyond that to create a notable sonority, with Thom's idiosyncratically uncanny vocals providing lightness. This album has evolved beyond the murky textures of its predecessors, trading instead in beefier melodic ideas that etch themselves into the subconsciousness.
While the record profoundly speaks for itself, we highly recommend watching the powerful short film 'Anima' – directed by Paul Thomas Anderson – which extracts movements from the record and sets them to striking visual performance art, starring Thom himself. In this marriage of sight and sound, Paul and Thom communicate ideas of dreams unfulfilled and – ultimately – of the power of love to rekindle our interest in life.
'Anima' is a record that feels very much of the now with its fractured beats and nervous energy, but the unhurried pace makes it a welcome reprieve from the insanity of the world outside - full of hope and vitality.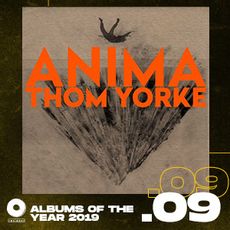 Tracklist
Traffic
Last I Heard (...He Was Circling the Drain)
Twist
Dawn Chorus
I Am a Very Rude Person
Not the News
The Axe
Impossible Knots
Runwayaway
Ladies & Gentleman, Thank You For Coming (vinyl exclusive)