other titles...
See also...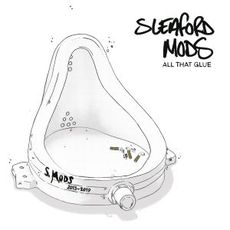 McFlurry
Snake It
Fizzy
Rich List
Jobseeker
Jolly Fucker
Routine Dean
Tied Up in Nottz
Big Dream
Blog Maggot
Tweet Tweet Tweet
Tarantula Deadly Cargo
Fat Tax
Slow One's Bothered
Revenue
Rochester
TCR
Reef of Grief
B.H.S.
Second
OBCT
When You Come Up to Me
sleaford mods
ALL THAT GLUE
Rough Trade Records
a collection of songs spanning the last seven years of the bands career; an array of crowd pleasers, B sides, unheard tracks and rarities for us to obsess about anew.

Over the past few years Sleaford Mods have become one of the most intractable British pop stories. One of its best. Their music is drawn at a flawless fault-line of anger, tenderness and humour, a triumvirate of raw energy which frequently jostles in the space of a cadence for supremacy. On record you can hear their sinews, live you can touch their veins. Ffo baxter dury, jack medley's secure men and idles.