The Divine Comedy
Venus, Cupid, Folly and Time
Divine Comedy Records
---
"Venus, Cupid, Folly and Time - Thirty Years of The Divine Comedy"
In 1990 Neil Hannon started recording and releasing under the name The Divine Comedy.
Thirty years and twelve great albums later, Hannon is rightly adjudged one of the finest singer songwriters of his generation. To celebrate, Divine Comedy Records are remastering and reissuing nine of the band's classic albums.
The reissues will be released by Neil Hannon's own label Divine Comedy Records on August 21st, 2020.
The nine reissued albums have been remastered from the original tapes at the legendary Abbey Road Studios by mastering engineer Frank Arkwright (Blur, The Smiths.) Overseeing the audio throughout the campaign is engineer/mixer/producer Guy Massey, whose work on the Beatles Stereo Remasters won him a Grammy Award.
The CDs consist of 2 discs: the remastered original album, with a second CD of B-sides, demos and alternate versions lovingly curated by Neil Hannon, much of which has never been heard before. The CD release of "A Short Album About Love" comes with a DVD of "A Short Film About A Short Album About Love – a previously unreleased 50-minute film of the Shepherds Bush Empire concert at which "Short Album.." was recorded. Each CD comes with a booklet of photos, credits and extensive liner notes written by Neil covering the context and inspiration behind the album and its songs.
The limited edition twelve volume CD boxset Venus, Cupid, Folly and Time - Thirty Years of The Divine Comedy brings together all the remastered CD albums and bonus material, as well as new editions of 2016's Foreverland and 2019's Office Politics updated with bonus material and liner notes. It also features Juveneilia - a boxset exclusive 2CD compilation of early material put together by Neil from his personal archive, including recordings stretching back to as early as 1984. It contains the "lost" 1990 album Fanfare For The Comic Muse and long out-of-print EPs Timewatch and Europop.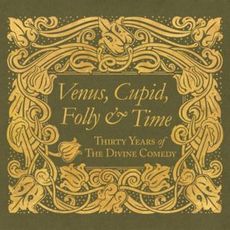 Tracklist
Juveneilia
Liberation
Promenade
Casanova
A Short Album About Love
Fin de Siècle
Regeneration
Absent Friends
victory For The Comic Muse
Bang Goes The Knighthood
Foreverland
Office Politics