Girls In Synthesis
Now Here's An Echo From Your Future
harbinger sound
---
since seeing them virtually rip the hope & ruin limb from limb back in 2018, we'd been awaiting a full-length with baited breath & - fortunately - their resulting album of politically conscious noise-punk vitriol has left us a panting wreck of ear-annihilated satisfaction.
In equal parts frantic, considered, ear-splitting and melodic, the group take their cues from the early DIY punk and post-punk pioneers to keep everything in-house; artwork, videos, performances and recordings are created entirely by the group and their handful of trusted collaborators, under a bedrock of heavy, bludgeoning, dark, post-punk. Their debut lp finds the band advancing their sound, making subtle but experimental shifts in texture and tone. A must for fans of idles, girl band, john (timestwo) & ditz.
Buddy says "A sheer tour de force of aggression and cathartic punk noise. The record that 2020 needs! I just pray I get to see them do it live again."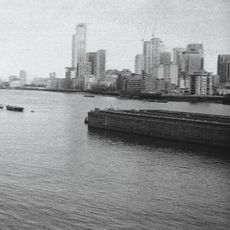 Tracklist
Arterial Movements
Pressure
The Images Agree
Scrapped
Human Frailty
They're Not Listening
Cause For Concern
Coming Up For Air
Set Up To Fail
Tirades Of Hate and Fear