THE CRIBS
night network
sonic brew / pias
---
***COMPETITION TIME !!***
*Signed Test Pressing to one lucky coustie who orders the album on any format!*
*WIN Ryan Jarman's Signature Fender Squier guitar (the last of its kind)!
Support the band's new album & purchase a copy of 'Night Network' on any format to be in with a chance of winning.
Then sign up to their mailing list to be entered:
From Ryan: "Found the last Musuar Fender in existence the other day whilst going through my storage unit. It was supposed to be my personal 'final production' model (as I only have the prototypes at the minute) but looks like one of you guys are gonna end up with it instead! Still all boxed up like the day I received it. If you want it, better get on it. Only 250 were ever made and this is the one that was set aside for me personally. Which makes it cooler, obviously. It even still has my name and shipping address on the box, but that might be scribbled out by the time you receive it!"
as fresh, cathartic and vital as anything they've ever put out, that unique blend of bittersweet melody, brutal lyrical honesty and riffs for days has returned in full force. The Cribs are back and on blistering form, brandishing their brand new eighth album, 'Night Network'. the self-produced 12-track album was recorded at the Foo Fighters Studio 606 in Los Angeles in the spring/summer of 2019. In a typically downplayed way, the band have honed in on what's so special about The Cribs: really bloody good songs. Fans might well think this is their best album in a decade. they return empowered, beholden to no one, on the greatest form and still screaming in suburbia. "While the album's indie and punkier moments do revitalise the record's energy, there isn't a sense of pining for that "classic Cribs sound" whenever the band do decide to explore other songwriting avenues" 5/5 – nme.
*No purchase technically necessary. Competition ends November 28th.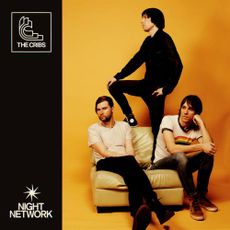 Tracklist
Goodbye
Running Into You
Screaming In Suburbia
Never Thought I'd Feel Again
Deep Infatuation
I Don't Know Who I Am (feat. Lee Ranaldo)
She's My Style
Under The Bus Station Clock
The Weather Speaks Your Name
Siren Sing-Along
Earl & Duke
In The Neon Night